Creating an event with the Event Wizard is quick and easy: enter your event details and upload a banner image, create your tickets, and you're good to go!
Create Event and add Event Details
1. Enter the Event Wizard

After you sign up or log in, select "Create A New Event" at the top of the Event List page.
2. Fill in the "Event Options" section.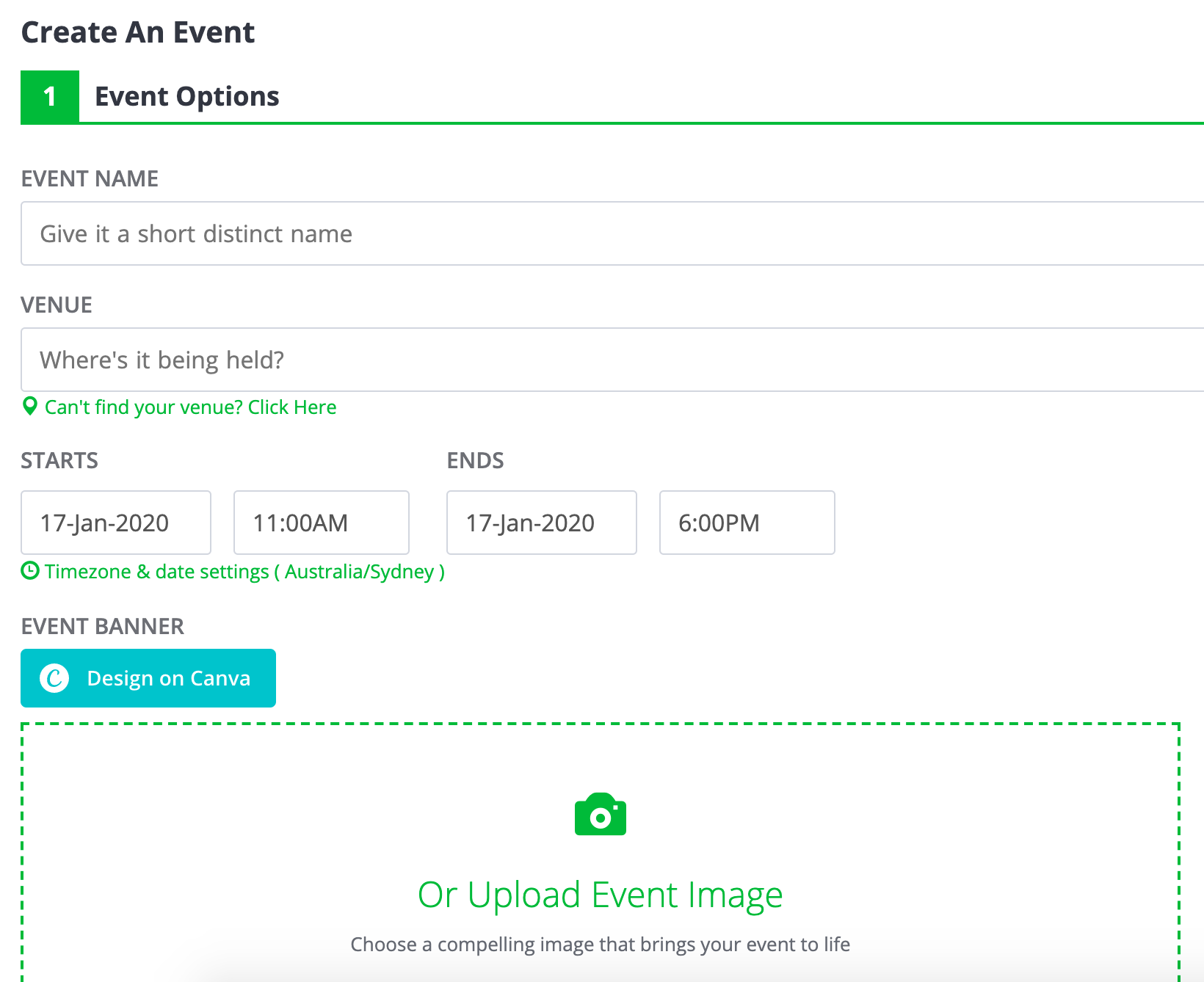 Under "Event Options" you'll see fields for the following information:
Event Name – Give your event a short, distinct name
Venue – Start typing the name of the venue where your event is being held and select the venue from the drop-down list
Note: If your venue isn't listed you can add it to the INTIX venue list. Under the Venue field click 'Can't find your venue? Click Here'

You can then enter the details of your venue.
Note: Longitude and Latitude are optional but will show in a Google Map search if you look for the venue.
It may take up to 30 seconds for your event to show in the list after saving.
Date and Time – Select the start date and time for your event from the drop-downs. Make sure the correct time zone is selected for your event. This can be changed by clicking "Time Zone & Date Settings"
Event Banner – This is the main image which appears at the top of your event page, and on your event listing on your INTIX event listing. This image often contains the event name and should be compelling enough to bring your event to life. Image Specs: 960px X 320px | no larger than 2MB
Note: If you don't have a designer working on your event, never fear! The Design on Canva button allow you to make your own awesome art from scratch or you can utilise one of Canva's super cool templates and edit it.
Event Summary – Write a summary that describes the most important details of your event and makes it clear to people why they should attend. Include details which will help attendees get a sense of what they'll experience at your event like a lineup, sponsors or featured guests. TIP: You can add an image using the Insert Image button. You can also format the text using the Rich Text Format settings, such as making text centre-aligned, or bolding key points.
Note: This section does not support emojis. Be aware when copying and pasting your awesome event summaries from social media sites that trying to include emojis will produce an error.
Link to Facebook – Check the Link to Facebook box at the end of the Event Options section if you wish to link your event to Facebook. This will allow attendees to see information about your Facebook page and event when they view your ticketing site.In the first box, enter the end of your Facebook page's URL. In the second box, enter the number at the end of your Facebook event's URL.
Create Tickets
After you've added all of the other details for your event, it's time to create your tickets. You can use the Event Wizard to add multiple Ticket Types, including Free tickets, Paid tickets, and also set up an option for attendees to make a Donation during ticket purchase.

3. Select your first ticket type and fill in Ticket Details.
+ FREE – Creates a ticket with no charge.
+ PAID – Creates a paid ticket.
+ DONATION – Adds an optional donation to your ticketing form. You can set up pre-determined donation amounts or leave the price as 0.00 to allow customers to enter their own donation amount.
Once you select a ticket type, a drop-down will appear allowing you to enter ticket details including the Ticket Name, Quantity Available, Price.
4. (Optional)
Edit settings for each ticket type by clicking the settings symbol (see below). This allows you to enter a longer description for your ticket types, alter sales dates, and restrict the number of tickets allowed per order.
5. Decide on your fee setup.

Currency – This is the currency your attendees will be charged in, and INTIX will pay you in. INTIX can process in over 100 currencies. If your desired currency isn't available contact us.
INTIX Ticket Fees – Choose from the options:

"Pass INTIX ticket fees on" – The INTIX fees will be charged to attendees on top of the ticket price, and will not impact your ticket revenue
"Absorb INTIX ticket fees" – The ticket fee will be included in the ticket price to attendees and taken out of the ticket revenue for Event Organisers

Stripe Transaction Fees – Choose from the options:

"Pass Stripe fees on" – The payment processing fees will be charged to attendees on top of the ticket price, and will not impact your ticket revenue
"Absorb Stripe fees" – The payment processing fee will be included in the ticket price to attendees and taken out of the ticket revenue for Event Organisers
Note: If your event has all free tickets then you can leave these settings as they are
6. Save your event and set it to LIVE.
Don't forget to press SAVE EVENT to finish creating your event. After your event has been created, you will be redirected to the Dashboard for your new event. Your event will be in Test Mode to allow you to check that all details are correct.
Once you are happy with your Event setup, make sure you set your event Live.
7. Share your Event URL with your customers.
You can find the URL by going SET UP > EVENT INFORMATION > GENERAL and copying the Event URL there.
The wizard helps you get up and running if you're hosting a relatively basic event (at this point, if you want to, you're good to go and get selling!)
You can personalise as much or as little as you like with INTIX, from a simple community event to the biggest and the best national festival tours, we've got you covered. It's all in your hands to decide how much you want to edit and personalise your event.
To deep dive into all the other ways you can personalise your event check out the help articles here and make some cool changes and additions before you go live.