INTIX provides an email marketing platform for Event Organisers to market and communicate important event information to ticket holders and members of pre-existing email lists. This is a powerful, easy to use, and free tool for INTIX Event Organisers, saving you from having to pay expensive subscriptions to use other email marketing providers.
Creating your campaign
Log in to your INTIX Event Organiser Dashboard
Select the Organisation that you want to schedule your campaign from
Note: If you are only authorised for one organisation you will only see one.
From your Event Listing, click MARKETING > CAMPAIGNS
Click the CREATE CAMPAIGN button to get started
Name your Campaign - only you will see this name, choose a name that will help you remember what was inside this campaign
Select Campaign Type: Email
Add a Subject Line for your email.
TIP: Keep your subject line short and attention-grabbing. Avoiding using ALL CAPS OR "!" symbols, as this may lead to your email being sent to the Junk folder
Add 'From' details. We recommend using your event or business name, and to send from the email you would like people to reply to with any enquiries.
Select your template. If this is your first Campaign on INTIX, select Blank Template to get started.
Click GENERATE CAMPAIGN
Building your email content
Use the Drag & Drop email builder to add your images and copy until you are happy with the way your email looks. You can use settings to change font colours, background and section colours, add images, buttons and more.
Click SAVE to save your content regularly while you are working on it.
When you are happy with how it is looking, press SAVE and click OK in order to proceed to select recipients for your campaign.
Note: you can return to edit your email content at any time by
Click here for help with using the email editor.
PRO TIP: Marketing emails should be short, with not too many words. Try to use images and a small sentence or two to capture the attention of your readers, and then provide a Call To Action (CTA) button linking to what you would like them to do.
IMPORTANT: Remember to make it easy for your customers to know how to buy your tickets, by including prominent BUY TICKETS buttons linking to your INTIX ticketing page.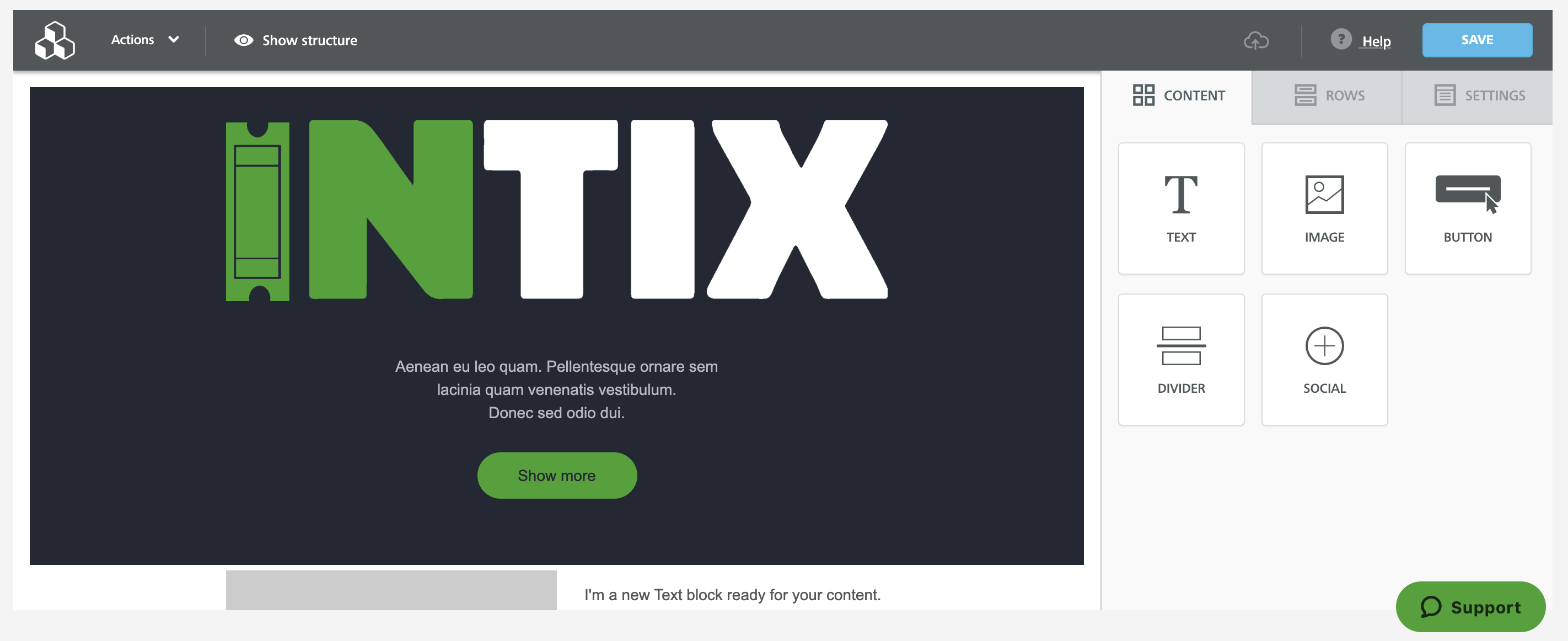 Define your campaign recipients
After you save your email content, you will be prompted to define your recipients. You can also access this area from your Campaign Overview by pressing DEFINE RECIPIENTS.
Note: If you have previously selected recipients, you will have to click REMOVE on the selected list in order to be able to select a new list.
Choose the List you would like to receive your campaign
Click NEXT to save your selection
You will be taken to your Campaign overview and can edit any details and send Test emails prior to sending your campaign. We recommend sending a Test of your campaign before scheduling it to send to make sure all of the details are correct.
Click here to learn about editing email Lists.
Testing your campaign prior to sending
Nothing looks more unprofessional than an email campaign with a missing subject line or broken links. Testing is an integral part of the process for all email marketers.
From your Campaign Overview, click on 'Send a test'
Enter up to 5 email addresses of people who you would like to receive a test of your campaign, then click the SEND TEST button
Check your email for a copy of the Test Email. The subject line will contain "[[TEST]]" before the subject line to show that this is a test campaign. Things you MUST check for before sending a campaign include:

Correct subject line
Email design displaying correctly
Font and text displaying correctly
Check to make sure there are no Broke, Incorrect or Untracked links
Ensure there are no spelling or grammar errors

If you are happy with your campaign, it's time to schedule it to deliver!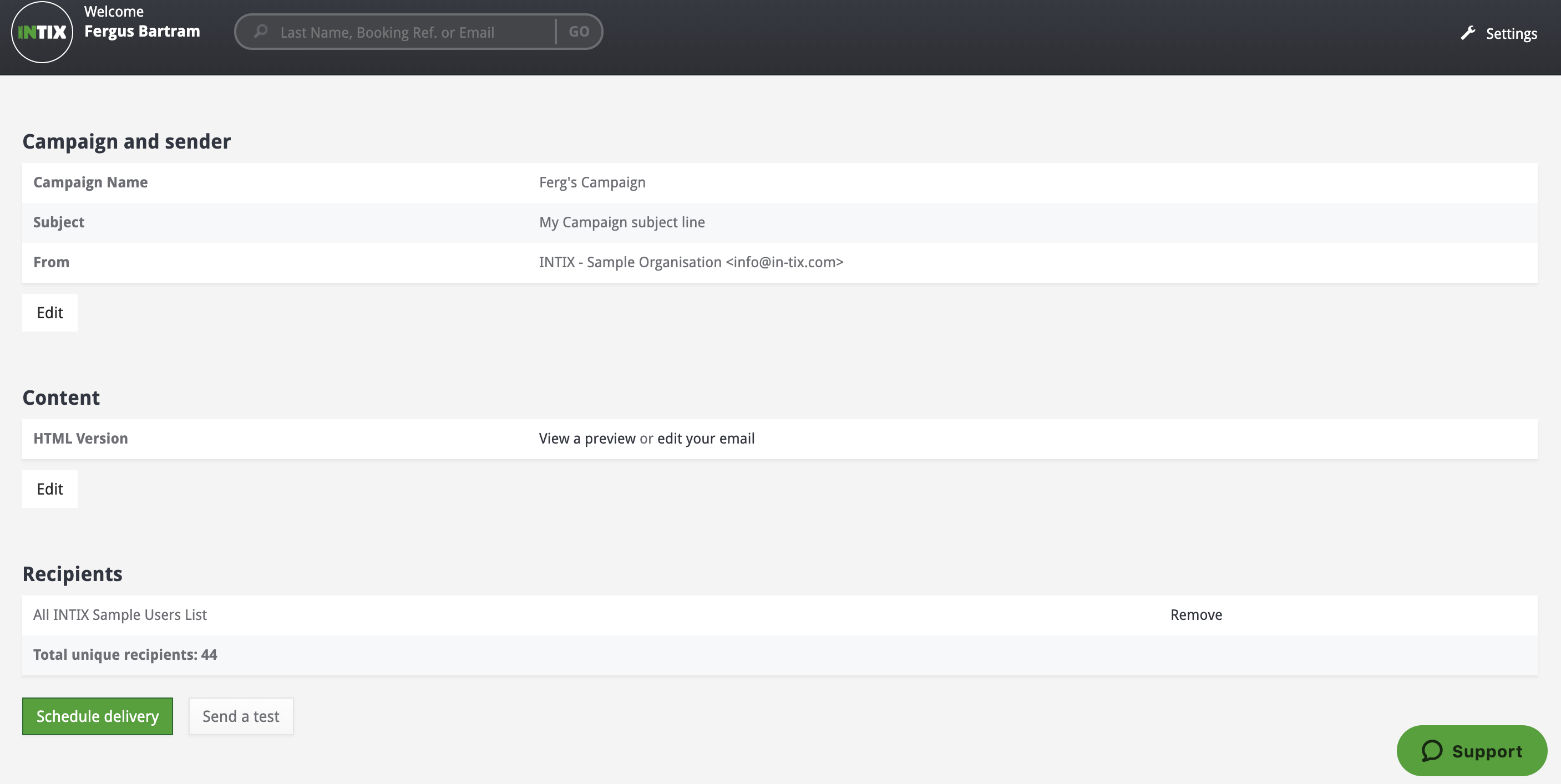 Sending your campaign
From your Campaign overview, click 'Schedule delivery'
The selection will default to 'Send it now'. Simply change the selection to 'Schedule for a specific time' if you don't wish to send the campaign immediately.
To schedule your EDM for a specific time check out the article here.
The campaign will now show in your Scheduled list.